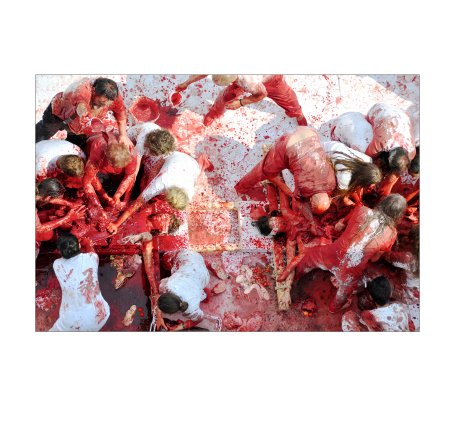 In May 2010, Karlyn and Sarah were 'crucified' in Hermann Nitsch's 130th "Aktion", in Naples, Italy. In the week before the actual event, they took part in the rehearsals and met Nitsch every day to talk with him about experiencing life and his "Orgien Mysterien Theater". On the day of the "Aktion", Karlyn and Sarah were blindfolded, naked, bound to their crosses, to feel, hear, taste and smell all that was happening to them in the Museo Hermann Nitsch. The documentation of this event, containing photos of the different scenes of the "Aktion" as well as two texts with Karlyn and Sarah's own, personal experiences being part of Nitsch's artwork, resulted in an edition that was published by the Global Art Affairs Foundation under the title HERMANN NITSCH: UNDER MY SKIN. The following text is an excerpt from the interviews Karlyn and Sarah did with Hermann Nitsch.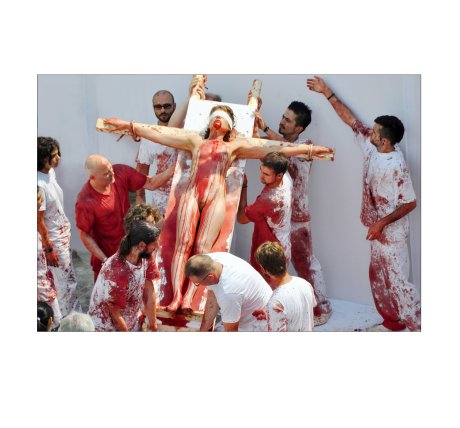 Sarah Gold: Nitsch, you have told us that your mother used to ask you: "Why are you doing this nonsense?" Do you have any idea why you made this so called 'nonsense'?
Hermann Nitsch: In a positive way, you come very close to me now. Now I will not answer you with academic rubbish. I made it because I was convinced that it was necessary and still is. To work in this way and to question the world in this way. Christ said: "What is truth?" It was Pontius Pilate. The fact that he washed his hands and really did not want to have anything to do with politics and, then plainly asks: "What is truth?" I want that too. I have always fought for the truth. One cannot reach the truth, but you can move in the direction of the truth. I never wanted to improve the world as a whole for that, the world is far too great, too complex. You can only extract great moments from the world, in terms of large, deep experiences that penetrate into being. But Being is actually the thing in itself. Since everything is inside of it: the terrible abyss, the glorious splendor, the greatest moments of joy and the deepest holes. I have always fought. I would say, it was for the truth of Being.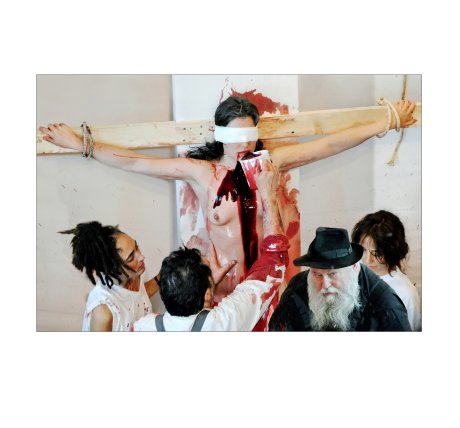 Karlyn De Jongh: Now you have been creating your work for about 50 years. Having lived in Vienna, I am of the opinion that the Viennese Actionism was destined to arise there, have you been able to change something? Have you in your environment, or perhaps even to a larger extent, made a difference?
HN: Look, a great example for me is Freud. Whether the therapeutic success of Freud was really so great is a question I do not want and even cannot answer. But he had a great influence on our whole culture, even on mythology and theology. Actually, he preventively has eliminated dispositions towards the classic Freud Neurosis through his educational work. In this sense, he was therapeutic in insight therapy and that is for me also the case. I do not believe in an improvement of human beings, or an improvement of nature. But I think that we can use the conditions that we have better and more intense, and that everyone by himself can intensively develop his Being.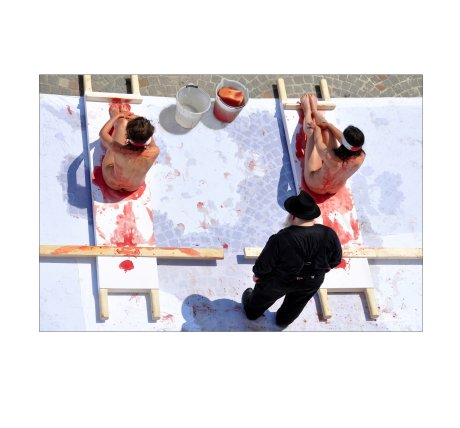 SG: Now, from today on, you will live maybe 10 years more… These last 10 years, what can you still give us as a final acchord?
HN: I would like to make the most beautiful thing I am perhaps still able to make. I would like my work to become more colorful in every respect, and more undogmatic, unspeakably a message of Being. That Being says: "Come to me," you are created to be and experience it. You do not experience it in hell, not in distress and not in pain, but you experience it in the greatest joy. Just look at the suffering and the Cross, the tragedy, the tragic and death, in the eye. The images of wars and Holocaust unfortunately, that all belongs to Being. I would like to be on the side, just because I have intimately and altruistically experienced Being. In that moment I am then fully there, when I am completely in luck, then I do not understand humanity. Another 10 years? Visions for the future, I am not really as interested in them as I am in experiencing the moment, the now, the experience.